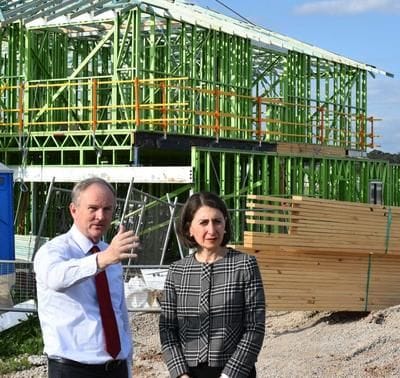 Kevin Conolly with Premier Gladys Berejiklian overseeing new housing developments
in the electorate
This site is authorised by Kevin Conolly MP, Shop 20 Stanhope Village, 2 Sentry Drive Stanhope Gardens NSW 2768. Funded using Parliamentary entitlements.
To contact Kevin send an email to riverstone@parliament.nsw.gov.au .
Latest News
The Marsden Park community is one step closer to benefitting from a new school with a call made for construction tenders. The tender milestone represents the latest step in the project which will benefit the community by providing quality modern educational facilities. Member for Riverstone Kevin Conolly said he was pleased the projec...
Read More
Work has just finished on replacing the old outdoor playground area at Kellyville Ridge Public School with a new and larger state-of-the-art playground facility for students to enjoy during their recreation time. The school's P&C applied to the State Liberal Government using the 2018 Community Building Partnership Program last year an...
Read More
Local high school student leaders rubbed shoulders with state parliamentary leaders in NSW Parliament yesterday at the Riverstone Electorate Senior School Leadership forum, an annual event hosted by Member for Riverstone Kevin Conolly MP. The forum was started by Mr Conolly when he was first elected into NSW parliament in 2011 and was des...
Read More
More pre-schoolers throughout our community will have access to better quality early childhood learning facilities and specialised educational programs, thanks to the NSW Government's Quality Learning Environments program. Member for Riverstone, Kevin Conolly today announced the following preschools and not-for-profit long day care ce...
Read More
North-western Sydney is one step closer to a brand new primary school in Marsden Park, following the lodgment of a State Significant Development Application (SSDA). The project is designed to accommodate up to 1,000 students from year K-6 and provide new permanent, air-conditioned learning spaces, a hall, library, a covered outdoor learni...
Read More
Articles via RSS