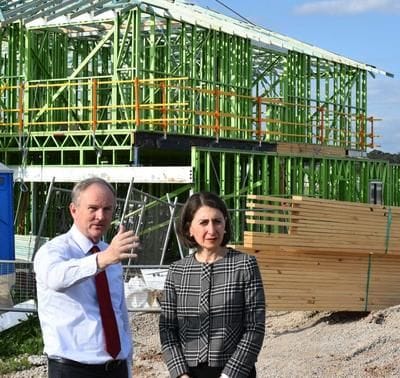 Kevin Conolly with Premier Gladys Berejiklian overseeing new housing developments
in the electorate
This site is authorised by Kevin Conolly MP, Shop 20 Stanhope Village, 2 Sentry Drive Stanhope Gardens NSW 2768. Funded using Parliamentary entitlements.
To contact Kevin send an email to riverstone@parliament.nsw.gov.au .
Latest News
Member for Riverstone, Kevin Conolly today welcomed the news that communities in the greater North West region of Sydney will share in Community Road Safety Grants worth a total of $435,375 to fund local road safety awareness projects in NSW. The Blue Datto Foundation, one of 29 community groups which has benefited from a grant under this...
Read More
Students at Quakers Hill East Public School are now enjoying some of the newest classrooms and facilities in NSW after their school upgrade was officially completed today. Minister for Education Sarah Mitchell and Member for Riverstone, Kevin Conolly today visited Quakers Hill East Public School to mark the official opening of the upgrade...
Read More
Correctional officers across the State will pause from work next Friday 29 November to hold ceremonies for Corrective Services NSW Remembrance Day. Parklea Correctional Centre and the Compulsory Drug Treatment Centre will be among the centres where officers, families and friends will gather to remember frontline officers who have fallen i...
Read More
The Marsden Park community is one step closer to benefitting from a new school with a call made for construction tenders. The tender milestone represents the latest step in the project which will benefit the community by providing quality modern educational facilities. Member for Riverstone Kevin Conolly said he was pleased the projec...
Read More
Work has just finished on replacing the old outdoor playground area at Kellyville Ridge Public School with a new and larger state-of-the-art playground facility for students to enjoy during their recreation time. The school's P&C applied to the State Liberal Government using the 2018 Community Building Partnership Program last year an...
Read More
Articles via RSS