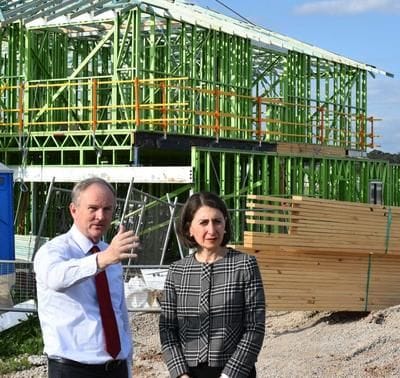 Kevin Conolly with Premier Gladys Berejiklian overseeing new housing developments
in the electorate
Latest News
"The Hills Shire Times story about the NSW Government's school air conditioning is just plain wrong," said Kevin Conolly, Member for Riverstone. The report correctly identified that all new schools and upgrades will have air conditioning included. But it relied on the old policy which the government has just announced wi...
Read More ...
One thousand public schools across NSW will receive air conditioning thanks to an unprecedented $500 million funding boost from the NSW Government in this year's State Budget. Member for Riverstone Kevin Conolly welcomed the funding for school air conditioning for which he has been lobbying for several years. "This level of i...
Read More ...
The State budget will confirm the ongoing massive investment in public schools in the Riverstone electorate and surrounding region, said Member for Riverstone Kevin Conolly. "Primary school capacity will be increased at Quakers Hill East Public School, Riverbank Public School and Schofields Public School where extensive upgrade proje...
Read More ...
Member for Riverstone Kevin Conolly today welcomed improvements to the local bus network, including new and extended routes, which will create over 160 extra weekly services for commuters. "Sydney's North West is growing and from 3 June, we'll be delivering enhancements to the local bus network to provide better coverage of t...
Read More ...
Member for Riverstone Kevin Conolly is encouraging cricket clubs to apply for a share in $6 million in funds announced by the NSW Government this week and made available through the upcoming NSW ICC World T20 Legacy Fund. This Fund is designed to support local cricket participation and can benefit the whole community; in particular to nurture...
Read More ...
Articles via RSS