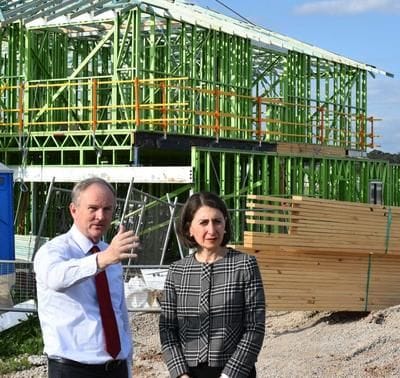 Kevin Conolly with Premier Gladys Berejiklian overseeing new housing developments
in the electorate
Latest News
The Geographical Names Board (GNB) is seeking public comment on a proposal from Blacktown City Council to change existing suburbs in its Local Government Area. The proposal makes changes to Marsden Park, Schofields, Riverstone, Rouse Hill, Vineyard, Quakers Hill and Shanes Park, creating six new suburbs due to population growth in t...
Read More ...
"The biggest threat to health services in Sydney's north-west is the possibility of a Labor government," says Kevin Conolly, Member for Riverstone. "Since 2011 the NSW Liberal Government has invested more than $700 million in Blacktown-Mount Druitt hospitals, more than doubling the capacity of the hospitals, and has emp...
Read More ...
Member for Riverstone Kevin Conolly has welcomed the news that two preschools in Quakers Hill will benefit from a total of $30,000 in funding shared equally to go towards enhancing the quality of their service. Mr Conolly visited both centres this week to announce and congratulate Blacktown City Council and preschool centre staff on being...
Read More ...
TAFE NSW Nirimba student Kealoana Stevenson was awarded Vocational Student of the Year at the prestigious 2018 Western Sydney & Blue Mountains Training Awards presentation on Friday night. Kealoana took out the prestigious Vocational Student of the Year award at the Training Services NSW event. TAFE NSW students claimed two of the...
Read More ...
Member for Riverstone Kevin Conolly is delighted to announce that the NSW state budget delivered today allows people all over the state to benefit from the responsible financial management and discipline of the Liberal Government over the last 7 years. "Not only is the Government continuing its record investments in transport and hos...
Read More ...
Articles via RSS