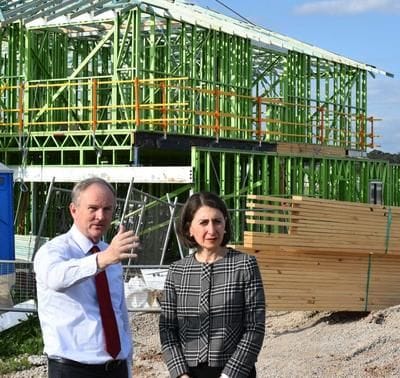 Kevin Conolly with Premier Gladys Berejiklian overseeing new housing developments
in the electorate
This site is authorised by Kevin Conolly MP, Shop 20 Stanhope Village, 2 Sentry Drive Stanhope Gardens NSW 2768. Funded using Parliamentary entitlements.
To contact Kevin send an email to riverstone@parliament.nsw.gov.au .
Latest News
North-western Sydney is one step closer to a brand new primary school in Marsden Park, following the lodgment of a State Significant Development Application (SSDA). The project is designed to accommodate up to 1,000 students from year K-6 and provide new permanent, air-conditioned learning spaces, a hall, library, a covered outdoor learni...
Read More
"The passage of the Abortion Law Reform Act 2019 represents a sad occasion for the state of New South Wales," said Kevin Conolly, Member for Riverstone today. "Decades after the death sentence was completely expunged from the statute books of this state, it is now back in legislation passed by this Parliament. "The...
Read More
One of our local area teachers has been recognised as one of the State's best. 23 teachers across the State were awarded with the highest levels of accreditation at a prestigious ceremony in Sydney last night, including Amanda Singh from The Ponds High School. Member for Riverstone Kevin Conolly said the awards recognise highly ef...
Read More
Today's Rouse Hill Times report purports to quote me saying that "Ninety percent of people have asked me to support this Bill (with amendments)". This claim is false. What I said to the journalist is "Ninety percent of Riverstone constituents who have contacted me have supported my position". This is true. My p...
Read More
Member for Riverstone, Kevin Conolly MP, announced today that four local community organisations in the Riverstone electorate have been successful in the public vote to receive NSW Government grants from the 'My Community Project' under the NSW Generations Fund; sharing a total of $243,305. Riverstone High School will receive $79,...
Read More
Articles via RSS