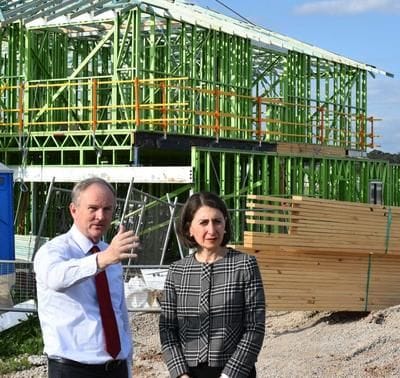 Kevin Conolly with Premier Gladys Berejiklian overseeing new housing developments
in the electorate
Latest News
Member for Riverstone Kevin Conolly has backed Catholic, Christian, Jewish, Muslim and other faith-based schools in their stance on employing teachers who share their faith and values. "The first and foremost educators of children are their parents," said Mr Conolly. "The parents' right to decide how a child is educated...
Read More ...
Member for Riverstone Kevin Conolly has welcomed the news that more than 410,000 licence holders will be set to save at least $216 million over 10 years, under a new licence regime as part of the NSW Liberal Government's wide-ranging "Better Business Reforms" to be introduced into Parliament this month. Some of the licence c...
Read More ...
Member for Riverstone Kevin Conolly yesterday presented Don Goodship with a well-earned Community Service Award in recognition of his ongoing involvement as a volunteer in his community. Don has been volunteering at the Riverstone Neighbourhood Centre's Mens Shed for over 8 years now. Having recently celebrated his 90th birthday Don i...
Read More ...
Community-run language schools in Riverstone will share in more than $5 million in funding from the NSW Government. The Community Language Schools Program provides funding to community organisations to help establish and run language schools in the local area. Classes run for school age children with non-English speaking backgrounds t...
Read More ...
Member for Riverstone Kevin Conolly MP was delighted by the success of the Riverstone Junior School Leadership Forum in NSW Parliament this week. 32 students from 11 local primary schools attended the Leadership Forum at NSW Parliament House on Tuesday, 25 September 2018, and had the opportunity to discuss leadership with The Hon Rob Stok...
Read More ...
Articles via RSS