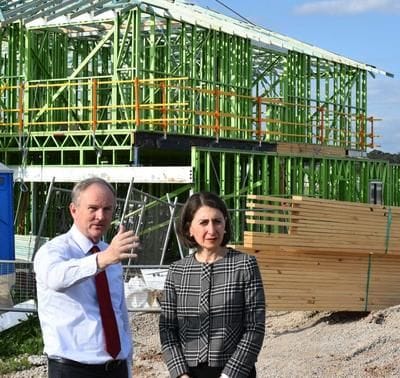 Kevin Conolly with Premier Gladys Berejiklian overseeing new housing developments
in the electorate
Latest News
Member for Riverstone Kevin Conolly is delighted to announce today that community organisations in the Riverstone electorate have secured $329,996 in funding for a total of 11 projects from the NSW Liberal Government's 2018 Community Building Partnership Program. The State Government funds will deliver much-needed improvements to loca...
Read More ...
A site for the new Alex Avenue primary school in Schofields has been confirmed with the NSW Liberal Government today announcing that land has been secured on Farmland Drive, Schofields. Construction of the new primary school will commence mid-next year, and is set to open for the start of the 2021 school year. Member for Riverstone Ke...
Read More ...
Member for Riverstone Kevin Conolly MP visited the Riverstone Schofields RSL Sub-Branch premises on Market Street Riverstone to view the completion of a roof-top mounted solar panel installation that will save the sub-branch significantly in their future energy bills, which a grant of $17,800 from last year's NSW Government Community Buil...
Read More ...
Member for Riverstone Kevin Conolly has welcomed the NSW Government's commitment to finding a safe, permanent and loving home for children in out-of-home care. November is 'National Adoption Awareness Month'; an opportunity to promote the benefits of safety, stability and permanency for vulnerable children. "We know c...
Read More ...
NSW Labor last week voted to deny the people of Western Sydney the extra protection from flooding that a raised Warragamba Dam wall will provide. The Hawkesbury-Nepean Valley can experience much greater variation in flood heights than any other valley in Australia due to its unique topography. The Liberal-National Government's pla...
Read More ...
Articles via RSS