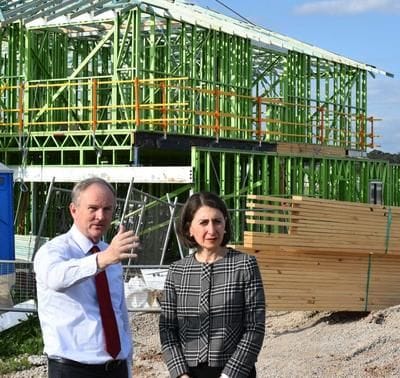 Kevin Conolly with Premier Gladys Berejiklian overseeing new housing developments
in the electorate
This site is authorised by Kevin Conolly MP, Shop 20 Stanhope Village, 2 Sentry Drive Stanhope Gardens NSW 2768. Funded using Parliamentary entitlements.
To contact Kevin send an email to riverstone@parliament.nsw.gov.au .
Latest News
The major upgrade to Sydney Water's Riverstone Wastewater Treatment Plant has been completed, providing a boost to Sydney's growing north-west communities. The $124m project has increased the treatment capacity at the plant by more than three times which will support tens of thousands of new residents in North Western Sydney. ...
Read More
Families in The Ponds will benefit from the NSW Liberals & Nationals Government's record investment in education, with a major upgrade to John Palmer Public School announced today. Member for Riverstone Kevin Conolly and Education Minister Rob Stokes today visited the school to announce the major investment that will deliver more ...
Read More
For the first time all NSW residents over the age of 60 will be eligible to receive discounts on products and services offered by businesses through the NSW Seniors Card program. Member for Riverstone Kevin Conolly today announced the new Senior Savers Card would be available from July 1, for senior residents who are not yet eligible for ...
Read More
Member for Riverstone Kevin Conolly and Minister for Multiculturalism Ray Williams today visited the Gurdwara Sahib Temple in Glenwood to announce $2,000 to support the Australian Sikh Association's Bhai Gurdas Ji Library. "The Gurdwara Sahib Temple in Glenwood is a significant place of worship for our local Sikh community,"...
Read More
Sports courts at Riverstone Park will be updated thanks to a $250,000 NSW Government grant provided to Blacktown Council to convert the ageing tennis courts to multi-purpose courts and to resurface the 4 aging netball courts. Member for Riverstone Kevin Conolly said the funding, which will be matched by Blacktown Council, would provide th...
Read More
Articles via RSS