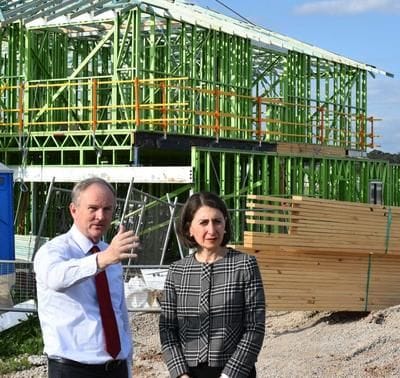 Kevin Conolly with Premier Gladys Berejiklian overseeing new housing developments
in the electorate
This site is authorised by Kevin Conolly MP, Shop 20 Stanhope Village, 2 Sentry Drive Stanhope Gardens NSW 2768. Funded using Parliamentary entitlements.
To contact Kevin send an email to riverstone@parliament.nsw.gov.au .
Latest News
Member for Riverstone Kevin Conolly announced today that construction work for the $21 million Riverstone High School upgrade project is well underway. The major upgrade, expected to be completed mid next year, will greatly benefit the Riverstone community by delivering 12 new permanent classrooms and refurbished student amenities and adm...
Read More
Roads and Maritime Services is widening Old Windsor Road from two to three lanes in each direction between Seven Hills Road, Seven Hills and Norbrik Drive, Bella Vista. Member for Seven Hills, Mark Taylor MP and Member for Riverstone, Kevin Conolly MP welcomed the announcement. "Widening Old Windsor Road will ease congestion for ...
Read More
The NSW Government has announced 1000 new commuter car parking spaces are ready at the new Tallawong Metro station ahead of the first turn-up-and-go train services between Rouse Hill and Chatswood. Member for Riverstone Kevin Conolly said the car park is complete as part of the $8.3 billion Sydney Metro Northwest line, which opens in the ...
Read More
Member for Riverstone Kevin Conolly announced today that the construction contract has been awarded for the new public school in Schofields, with building works due to begin at the Farmland Drive site. To mark the monumental milestone, Schofields' residents will now also be able to see what their new public school will look like, with...
Read More
Member for Riverstone Kevin Conolly has welcomed today's announcement by the Premier Gladys Berejiklian and Minister for Education Rob Stokes that school crossings across NSW will be made even safer with 300 more school crossing supervisors to be provided by a re-elected NSW Liberals & Nationals Government. Relaxing the eligibilit...
Read More
Articles via RSS