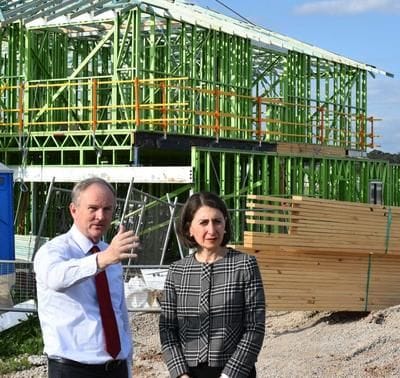 Kevin Conolly with Premier Gladys Berejiklian overseeing new housing developments
in the electorate
This site is authorised by Kevin Conolly MP, Shop 20 Stanhope Village, 2 Sentry Drive Stanhope Gardens NSW 2768. Funded using Parliamentary entitlements.
To contact Kevin send an email to riverstone@parliament.nsw.gov.au .
Latest News
The safety and security of the Riverstone community continues to be a high priority for the NSW Government with 6 new police officers on the beat following a private attestation ceremony in Goulburn just before Easter. Member for Riverstone, Kevin Conolly congratulates the new recruits on attesting from the academy after more than eight m...
Read More
Up to 200,000 business licence holders operating across the trades and construction sectors will have they licence fees due in 2020 erased thanks to the NSW Government. Member for Riverstone, Kevin Conolly said the licence fee waivers were a crucial part of the NSW Government's first economic stimulus package. "These fe...
Read More
Seniors at risk of social isolation during the COVID-19 pandemic will be the focus of $600,000 in funding from the NSW Liberal Government to keep our older community connected. Member for Riverstone, Kevin Conolly announced today that organisations can now apply for one-off grants to deliver programs that will help socially isolated senio...
Read More
Member for Riverstone Kevin Conolly is delighted to announce today that community organisations in the Riverstone electorate have secured $300,000 in funding for a total of 11 projects from the NSW Liberal Government's 2019 Community Building Partnership Program. The State Government funds will deliver much-needed improvements to loca...
Read More
The 2020 school year at Riverbank Public School has started with a major facility upgrade opening its doors to welcome the students, teachers and staff. The project, worth almost $18 million, has delivered 15 new teaching spaces all fully air conditioned, plus an enlarged covered outdoor learning area, expansion of administration and staf...
Read More
Articles via RSS