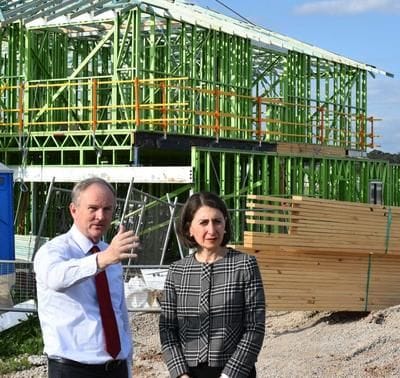 Kevin Conolly with Premier Gladys Berejiklian overseeing new housing developments
in the electorate
This site is authorised by Kevin Conolly MP, Shop 20 Stanhope Village, 2 Sentry Drive Stanhope Gardens NSW 2768. Funded using Parliamentary entitlements.
To contact Kevin send an email to riverstone@parliament.nsw.gov.au .
Latest News
Member for Riverstone, Kevin Conolly MP today announced the local recipients for the NSW Government's inaugural $2.5 million Sustainable Schools Grants. Mr Conolly welcomed the news that Schofields Public School had received $15,000 and Riverbank Public School had received $14,664 in the new student-led program that's focused on i...
Read More
Member for Riverstone Kevin Conolly was delighted to join The Ponds School principal Leonie Donaldson and the committee of the Blacktown Ponds Lions Club in presenting a NSW Government grant for the installation of Sun safe shade sails for The Ponds School outdoor playground area. The Blacktown Ponds Lions Club led by Rissa and Paul McInn...
Read More
Member for Riverstone Kevin Conolly MP and NSW Parliamentary Secretary for Education today acknowledged that schools across NSW will open their doors next week to one of the largest cohorts of students ever, with a once-in-a-generation spike in school enrolments this year. Approximately, 497,000 primary school students and 318,000 high sc...
Read More
National Corrections Day will be marked in the Sydney's north west today, celebrating the 10,000 correctional staff in NSW - and the 25,000 frontline officers across Australia who work tirelessly rehabilitating offenders and keeping the community safe. Member for Riverstone Kevin Conolly MP said the day was a great opportunity to than...
Read More
Member for Riverstone, Kevin Conolly today welcomed the news that communities in the greater North West region of Sydney will share in Community Road Safety Grants worth a total of $435,375 to fund local road safety awareness projects in NSW. The Blue Datto Foundation, one of 29 community groups which has benefited from a grant under this...
Read More
Articles via RSS