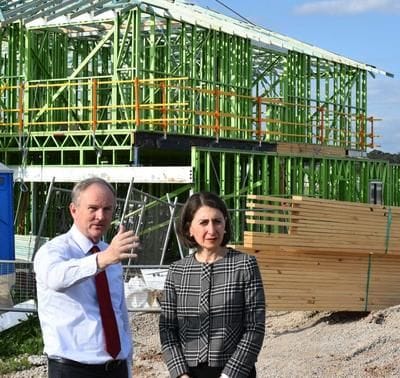 Kevin Conolly with Premier Gladys Berejiklian overseeing new housing developments
in the electorate
This site is authorised by Kevin Conolly MP, Shop 20 Stanhope Village, 2 Sentry Drive Stanhope Gardens NSW 2768. Funded using Parliamentary entitlements.
To contact Kevin send an email to riverstone@parliament.nsw.gov.au .
Latest News
Member for Riverstone, Kevin Conolly MP, announced today that four local community organisations in the Riverstone electorate have been successful in the public vote to receive NSW Government grants from the 'My Community Project' under the NSW Generations Fund; sharing a total of $243,305. Riverstone High School will receive $79,...
Read More
Member for Riverstone, Kevin Conolly MP, has welcomed three new Probationary Constables to the Quakers Hill Police Area Command. The three new officers undertook their attestation at Goulburn Police Academy last Friday. "I was delighted to visit Riverstone Police Station to welcome the three new Probationary Constables Grasinger, Dav...
Read More
NSW Rural Fire Service (NSW RFS) members will gather tomorrow night to celebrate the 75th anniversary of the Schofields Rural Fire Brigade (RFB) and honour the long-standing dedication and commitment to protecting the community by its members. Member for Riverstone Kevin Conolly and NSW RFS District Manager Superintendent Simon Davis will...
Read More
Member for Riverstone Kevin Conolly MP was delighted by the success of the Riverstone Junior School Leadership Forum in NSW Parliament today. 30 students from 11 local primary schools attended the Leadership Forum at NSW Parliament House today and had the opportunity to discuss leadership with The Hon Anthony Roberts, Minister for Counter...
Read More
I will oppose the euphemistically-titled "Reproductive Health Care Reform Bill". Removing the last vestiges of legal protection for unborn children in NSW is not a health care reform. It is a step backwards to a less-enlightened, less-civilised society which places only selective value on human life. The Bill is built on the...
Read More
Articles via RSS