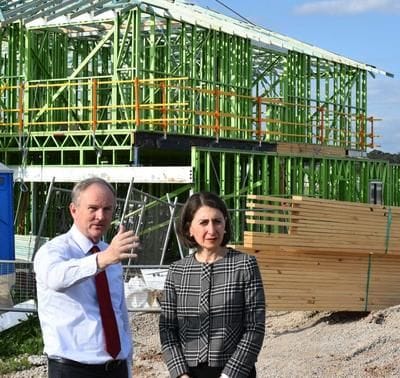 Kevin Conolly with Premier Gladys Berejiklian overseeing new housing developments
in the electorate
This site is authorised by Kevin Conolly MP, Shop 20 Stanhope Village, 2 Sentry Drive Stanhope Gardens NSW 2768. Funded using Parliamentary entitlements.
To contact Kevin send an email to riverstone@parliament.nsw.gov.au .
Latest News
Community organisations looking to build new or upgrade current facilities are encouraged to apply for funding from the NSW Government's Infrastructure Grants program which opens for applications on Monday, 5 August 2019. Member for Riverstone Kevin Conolly said applications could be submitted for sport and recreation, arts and cultur...
Read More
Member for Riverstone Kevin Conolly welcomed the announcement last week by Premier Gladys Berejiklian and Minister for Police David Elliott that the first 450 extra police will be allocated to police area commands, Police Districts and specialist areas across NSW in the next 12 months, as part of the NSW Liberal Government's $583 million ...
Read More
Member for Riverstone Kevin Conolly today welcomed the NSW Government's $50 Opal weekly travel cap which takes effect today, saving tens of thousands of regular public transport users up to $686 a year. In welcoming the announcement, Mr Conolly said that the decision to slash the current cap by around 20 per cent will help to ease cos...
Read More
Member for Riverstone Kevin Conolly has taken the Rouse Hill Times to task for claiming that the $300 million funding commitment to the Rouse Hill Hospital project is "surprise funding" and a "kneejerk announcement" made only after the newspaper's initial inaccurate report about the project's inclusion in the state...
Read More
Member for Riverstone Kevin Conolly has slammed the sloppy reporting of the Rouse Hill Times about school funding in the 2019-20 NSW State budget. "There has never been more capital funding allocated to schools in this electorate than this year," said Mr Conolly. "And the pipeline for the following 3 years is just as st...
Read More
Articles via RSS